Photos of Jim Hawkins
tattooed on Cedric GrayThe left arm of are three football players in the sky wearing the numbers 9, 10 and 43. They represent Tony Romo, Eli Manning and Troy Polamalu, him and his brothers' favorite football players growing up.
It's one of his favorite tattoos, until he got an artwork on his chest of him and his brothers playing football in the front yard with their dad, which is a " central memory.
This is where Gray fell in love with football.
The more he played football, the more his passion grew. Through flag football, pee wee, college, high school, it grew. He dreamed of playing college football at the highest level, but wasn't always sure it would be an achievable feat.
As a freshman in high school, Gray found himself on the JV team while many of his friends were in college. But once he got to college as a sophomore, he began to believe he could achieve his dream.
"I was always pretty good at football growing up," he said. "So when I got to high school, I see some of my peers in first grade, they play college and stuff. I actually didn't play college in my freshman year, I played JV. And so my freshman year, there was no doubt, but it was just like, am I really that good? You know, we'll see. But definitely after my sophomore year, and when the recruiting process accelerated for me, people started to take an interest and it definitely seemed like a very realistic goal.
However, schools that began to show interest did not include UNC until its senior year. By then Gray had already moved to Charlotte and was still looking for his first Power Five offer.
He played both sides of the ball, with wide receiver being his primary position at Ardrey Kell High School. UNC signed him as a linebacker with his 6-foot-2, 190-pound frame. And all of a sudden, Gray's dream came true.
"What made me come here, it was close to home, it was my only Power Five offer, but not only that, I fell in love with Coach (Tommy) Thig (pen) and Coach Mack (Brown)," said Gray. "…I think knowing it's close to my home, it was the coaches who were the most real with me throughout the recruiting process. It was a no-brainer.
He also played AAU basketball with Jordan Bly, Dr. Bly's son, so a relationship was established there as well.
His football career would continue in Carolina blue.
"It's my passion, it's what I love," he said. "Even if I don't make it to the NFL, I want to coach, I want to coach, I want to give back to young people who want to go through it. But just that feeling, it was unmatched. (The day I received the offer) was probably one of the best days of my life, to be honest with you.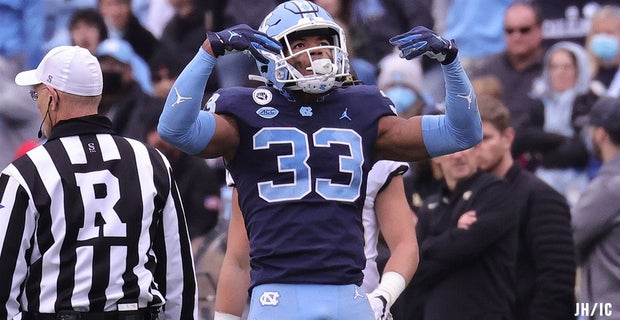 Gray was a member of the 2020 UNC recruiting class which ranked 14th in the nation and was led by five-star DB Tony Grimes, Desmond Evans, Josh Downs, Ja'Qurious Conley and Myles Murphy.
He was not the guys anymore and it became very evident during his first training camp in August at Chapel Hill.
"It's the first time we've done Inside Drill (7v7, all done), probably day one or two of full pads," Gray explained. "The ball is broken and I see two offensive linemen running towards me. Not one, two of them, and they hit me and when I tell you, they almost took me up against the wall and put me on my ass. I had never been knocked on my ass since I arrived in Carolina. I got up and after that I was like, 'Yeah, they don't play. They don't play.
The Charlotte, North Carolina native played 12 special teams games in his freshman year, with Chazz Surratt and Jeremiah Gemmel at linebacker. He attributes his time on the third unit to his development.
But talk to anyone else and you'll know it was inevitable that Gray would be the starting center linebacker at UNC. He burst onto the scene last season, working his way into a starting role alongside Gemmel.
Now he is Gemmel's replacement; both in the physical sense of the starting Mike and in the sense of leadership. He went from being invited by Gemmel to play video games and break down games to doing the same for young Tar Heels.
"I feel like it's time for me to step in," Gray said. "I'm getting older. I've gotten a lot more respect from my peers this year. I look forward to being a leader on the defensive side of the ball and in the linebacker room as well. I've always been a leader since high school. I'm a loud and vocal person, I feel like I've earned the respect of my teammates and I'm now really stepping into that role and being a leader.
Leadership is a priority for Brown and his coaching staff this offseason. He asks his staff to teach it at every practice and does things differently to earn his players a place on the management committee.
When Gray was asked what his goals were for the upcoming season, his answer had nothing to do with stats or player rewards.
"One of the big goals I have for me this year is to be a team captain. It would be an honor to be elected," he said.
His natural leadership ability, his development — it all goes back to his passion for football. Playing football in the garden with his brothers, tattooing them on his arm with their favorite players, staying up late with his family dreaming of a Power 5 offer.
"He really is," Brown said of Gray's motivation. "He's having fun. He's confident. He thinks it's his turn…and Cedric Gray is one of the best leaders in our defense.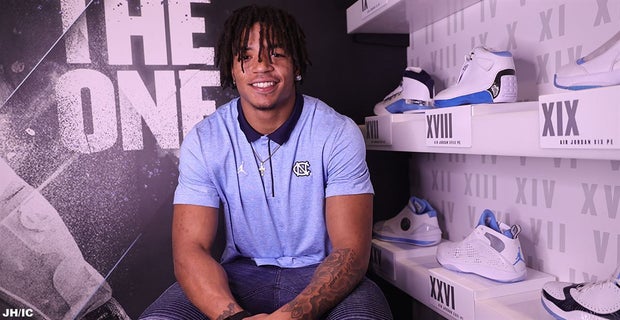 Gray led the team in tackles and finished fourth in the ACC this season. He was third in tackles for loss. In his fifth career start at linebacker, Gray had six tackles, one tackle for loss and two interceptions, one of which won the game in the dying seconds.
"I was on Mars," Gray said of the Miami game. "It was just crazy. I was so happy. It's what you dream of. I just sat down and said, 'Brother, you just won the game at a Power Five level school with about 60,000 people watching in person. And that was on ESPN.
The Tar Heel linebacker burst onto the college football landscape last season and is now in a position to lead the defense. But if it all ended tomorrow, it wouldn't matter. For Gray, he succeeded.
"I could blow my knee tomorrow and I want to give back and help the athletes," he said. "It's what I do. It's my passion. It's my passion, I have goals and dreams, I want to accomplish these things. In fact, I talked about it with a few of the students freshman, talking about how you come from high school and be the man to get into college where everyone is the man and you have to climb the ladder again.
"I just knew that I wanted to be ready and prepared for when the time came, creating good habits and different things like that. It all contributed to why I prepared, even when I wasn't playing, to be the starter because I knew my time would come and I didn't want to give it up.
A year ago, he was working to save playing time. Now he is looking to achieve his ultimate goal of being a team captain. He imitates his best Jeremiah Gemmel to be the next general of defense.
He lives his dream, lives his passion. From a Power 5 offer to driving a Power 5 defense. Maybe one day he'll have his NFL number tattooed on his arm instead of Polamalu's.
***
Related links:
* The players' lounge with Cédric Gray: Watch or listen to the exclusive interview with the UNC linebacker
* Heels4Life: Support UNC football players by becoming a member, connecting your local business or learning more about NIL player projects.