By Rachel Engel
WAUSAU, Wis. – Two female air medical pilots share their passion for the job and what drew them to the field.
Megan Meier and Sarah Snell both work for Aspirus MedEvac and the two women make up 25% of the company's pilots. Nationally, women make up only 8.4% of all pilots, according to the FAA.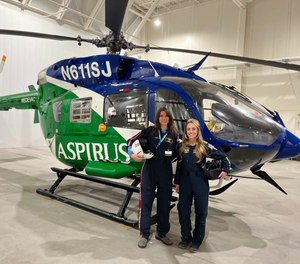 Meier was drawn to the idea of ​​helping people in critical times.
"When I started my first flight lessons for my fixed-wing certification at Wausau's downtown airport, the Aspirus MedEvac helicopter was based at the location," Meier said. in a press release. "Each time I saw the helicopter take off I was amazed and decided shortly after that my career goal was to one day fly this helicopter for Aspirus and help others in need. "
Snell, who has been flying for 22 years, pilots MedEvac Air 2 in Mosinee, Wis.
"When the 'tones' arrive, we must be prepared to travel to any location within approximately 200 miles of our base and arrive prepared for a wide range of medical issues," she explained. . "We have to consider all the options and variables and then react quickly and safely without knowing what we'll actually find when we get there."
Meier flies MedEvac Air 1 based in Woodruff, and she has been flying for 12 years. Through her work, Meier feels she can make a significant difference in people's lives.
"I have an immediate sense of purpose and opportunity to help someone in need," she said. "I find myself devoting my full attention to our team to do our best in our emergency efforts."
She encourages other women to pursue their dreams, no matter what challenges they may face.
"If I can be a role model for young women, that's wonderful, and I feel very honored if that's the case. However, I hope to be a role model and inspiration for young men as well" , added Megan. "Your life and your success are the result of choice, motivation, hard work and self-esteem. From this perspective, I urge anyone who has a dream to pursue it.