Princess Diana is remembered as one of the most elegant women to ever live and throughout her life she developed a knack for dressing to impress. One of the Princess' favorite fashion prints was polka dots with Diana wearing them on everything from evening dresses to daytime suits and accessories. This beloved trend has been embraced in recent years by Diana's daughter-in-law, Kate Middleton, who is quickly becoming as stylishly renowned as Diana herself was.
The exact origin of the term "pea" is unknown, but it has been part of common parlance since the mid-20th century. It is possible that the term derives from the traditional Czech dance, the polka, which became popular, with its accompanying musical style, in the United States in the 1930s, reaching its peak in the 1950s.
Although polka dots as we recognize them today date back to the mid-twentieth century, spots as a print have gone out of fashion over the centuries.
In the 1980s, the polka dot experienced a peak in popularity, being used by the greatest Parisian couturiers such as Christian Dior and Karl Lagerfeld at Chanel. It didn't take long for the fashion-conscious new British princess to incorporate the look into her work wardrobe.
Diana's favorite designers in the 1980s were Catherine Walker, Bellville Sassoon, Victor Edelstein and Bruce Oldfield. These UK-based designers have helped the princess live up to the unwritten royal rule that members of the royal family should never be behind fashion, but also never be ahead of it. Diana's polka dot wardrobe from these years is enjoying a resurgence as the print is once again used by high fashion brands in their new collections.
One royal who has enthusiastically embraced the pea is Kate Middleton. Over the past 10 years that she has been a member of the royal family, the Duchess has worn many bold and beautiful polka dot designs, from casual looks to important formal outfits.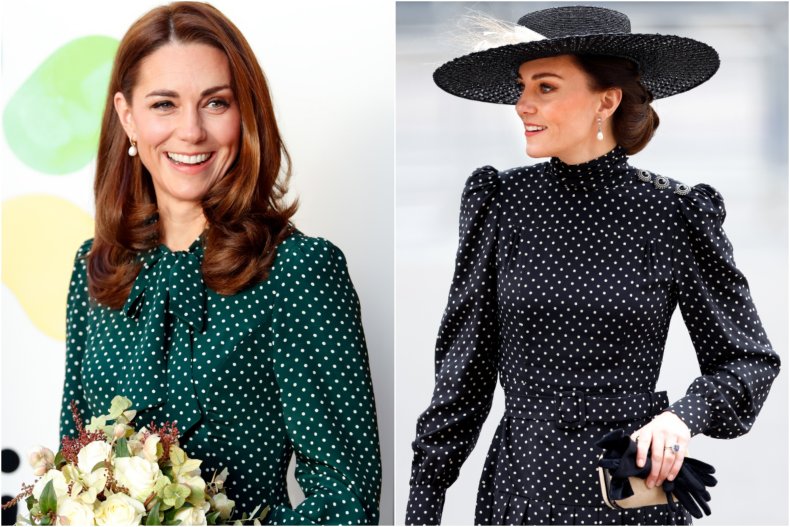 One of Kate's most beloved polka dot dresses comes from a brand that is quickly becoming one of her favorites as she is increasingly seen wearing their latest designs. Alessandra Rich is a British designer who creates clothes that pay homage to 1980s fashion. The dress silhouettes in the Rich collections pay homage to those seen in the 80s but updated with fun modern prints. More than one of Kate's Alessandra Rich dresses have been compared to those worn by her late mother-in-law in the '80s.
In 2018, one of the brand's most beloved dresses was a navy polka dot maxi dress with white flecks and a statement white collar. It's no surprise the dress features in Kate's wardrobe and she wore it to an event at Bletchley House, a wartime code-breaking site with links to her family, in 2019.
The blue polka dot dress is notable for another reason and that is its striking resemblance to a design worn by Diana in 1985. Although the designer of the princess dress is unknown, the design bears all the hallmarks of her favorite designer Catherine Walker who made more dresses for the princess than any other designer.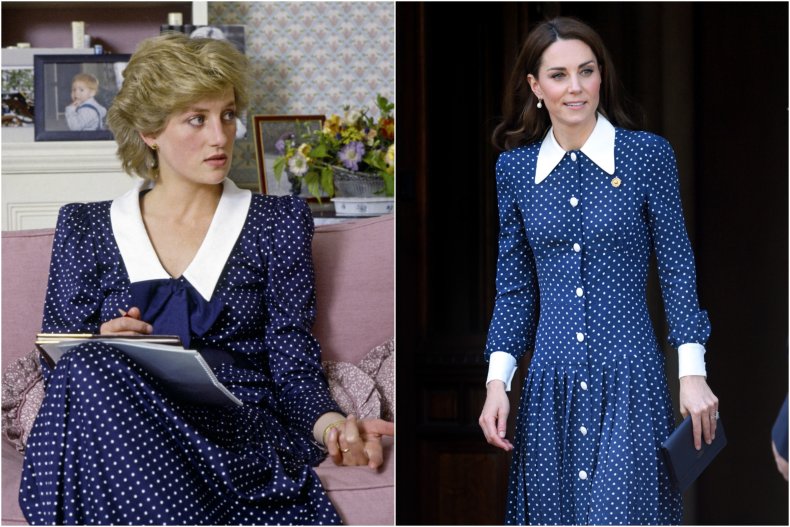 Kate's latest outing in a polka-dot creation was to attend Prince Philip's Thanksgiving Service for Life at Westminster Abbey last month. The Duchess wore a monochrome polka dot dress, again by Alessandra Rich, with puffed shoulders, a belted waist and a pleated skirt. The bold and confident look appeared just days after Kate and Prince William returned from their Caribbean tour, which received a series of criticism from the press and social media.
Although Diana may have championed polka dots over 25 years ago now, the print still permeates fashionable clothing today, from the local mall to a Paris runway. For Kate Middleton, who in recent years has been known for her ultra-chic and controlled style, polka dots are an injection of fun into her work wardrobe.
In the 'Diana: Her Fashion Story' exhibition held at Kensington Palace in 2017, Diana was quoted as saying of her fashion: "Sometimes I can be a little outrageous, which is kind of nice . But only sometimes."
Diana's sense of fun and extravagance in fashion is evident in her lifelong love of strong and determined polka dots.