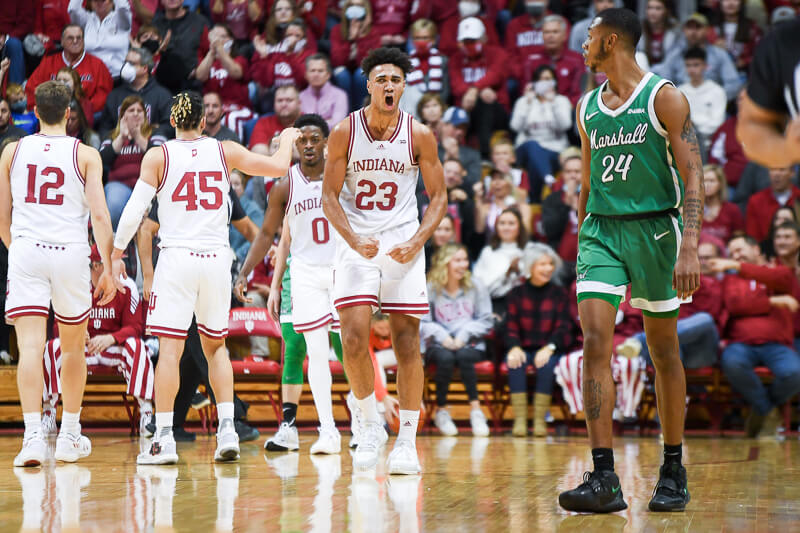 With eight minutes remaining in the first half, Indiana found itself on its knees in an assault. Marshall had embarked on a 17-0 run to take a 12-point lead. Marshall matched Indiana's intensity and energy. And for the first time this season, Indiana's defense was crumbling.
Around this time, however, Trayce Jackson-Davis approached Indiana point guard Xavier Johnson on the bench.
"Yo, (we) have to get it back when we get home," Jackson-Davis told Johnson.
Jackson-Davis and Johnson both checked in soon after. In the final six minutes of halftime, Indiana had a 19-8 streak. During that streak, Jackson-Davis scored eight points. Johnson added six points and an assist. The Hoosiers came in at halftime by one and had undeniably grabbed the momentum.
This movement of energy is important for more than one reason. This is the type of situation Indiana often fell back on last season. If they were hit in the mouth – whether against Michigan State or Rutgers – they would let things work out quickly and were unable to recover from it.
But on Saturday, that was not the case. Indiana showed the fight. The race at the end of the first half continued for the remainder of the game, where Indiana claimed a 90-79 victory to improve to 6-0. Yes, Marshall is a team Indiana should beat, but the Green Herd was 4-1 and Indiana found a way to respond in a way it couldn't last season.
"We were challenged," said Woodson. "I want to see who's going to step up and make plays, and tonight I thought we did in the second half."
In a way, it seemed to signal some of the DNA of Mike Woodson's team. They adopted a new character, bursting with courage, energy and passion. Over the past few seasons, Indiana has lacked a certain bravery. They were often outmatched in games.
On Saturday, no one was a better embodiment of those traits than Jackson-Davis. It wasn't just the fact that he scored a 43-point record in the boardroom, but the fact that he was a chest-pounding, roof-lifting, and swagger-filled leader.
He talks about the evolution of Jackson-Davis. During his first two seasons at IU, one criticism of Jackson-Davis was that he sometimes didn't show his vitality. And, as Woodson noticed, it wasn't just Jackson-Davis. Woodson saw a lack of swagger. When Woodson first met some players, they couldn't even look him in the eye.
"When I took over the team, this team didn't say much," said Woodson. "And I told them there was nothing wrong with talking trash with each other."
It's a confidence that comes not only from Woodson, but also the result of Jackson-Davis' continued maturation and development as an All-American. As a freshman, Jackson-Davis said he "kind of held his tongue," being the new guy. Last season he felt he had improved, but "not to the best of my ability".
Shortly after Jackson-Davis decided to return for his junior season, Woodson told him he would be captain. And now Jackson-Davis has grown more and more comfortable in his own voice. He is texting his teammates to make sure they are on time. He lets them know he's there to talk if needed.
"I took the full promise of trying to lead the guys," Jackson-Davis said. "Especially the younger ones to do the right thing."
On Saturday, that's why Jackson-Davis approached Johnson in the middle of Marshall's run. That's why in the first half, Jackson-Davis patted Jordan Geronimo on the head and said "let's go, you're fine" after the second had a difficult stretch. That's why, even when he was on the bench, he was clapping for trying to get his team started. That's why, in the second half, Jackson-Davis waved his hands in the air to ignite the crowd. And that's why, when asked if he needed a break, Jackson-Davis told Woodson on several occasions that he didn't want to go out.
This confidence was not only apparent in the way he behaved, but also in his dominant performance. For the majority of the game, Marshall went for a single Jackson-Davis blanket and he made them pay off. There were dunks, alley-oops, and jumphooks. At one point, Johnson was not respected by the fact that Jackson-Davis was not on a double team.
"I'm like 'go get 40 (points), brother," Johnson said.
In the second half, there were times when Marshall ultimately opted to team up in doubles. But Jackson-Davis showed his passing ability, hitting shooters around the perimeter. In addition to his 43 points, Jackson-Davis finished with four assists, five rebounds, five blocks, 7 of 9 shots from the line and 18 of 24 from the field.
This arguably led to Indiana's best offensive performance of the season and set the stage for what could make the Hoosiers a dangerous offensive team. If the teams only cover one Jackson-Davis, he will dominate. If they team up in doubles, he can kick it out to the perimeter at Miller Kopp or Parker Stewart, who combined for 3 of 6 shots from deep. On Saturday, Indiana shot 58% from the field and 53% from three.
"I think we've spread the floor a lot better than last year, and we have shooters all over the place," said Jackson-Davis. "So you can't just double and triple and sag and claw on the track as much as we could last year."
But more importantly, Saturday was a reminder of how Jackson-Davis unlocks Indiana's potential in more ways than one. He is not afraid to be demonstrative. He does not hesitate to speak. This was once again evident when he showed flair with a windmill dunk to punctuate Saturday's victory.
It's an energy that has permeated the team. Players often dive to the ground and look for loose balls. Woodson has progressed in his campaign to make his team more outgoing. Jackson-Davis is a big part of it.
"I've got everyone talking now," Woodson said. "They tell me garbage now. "
Filed at: Trayce Jackson-Davis